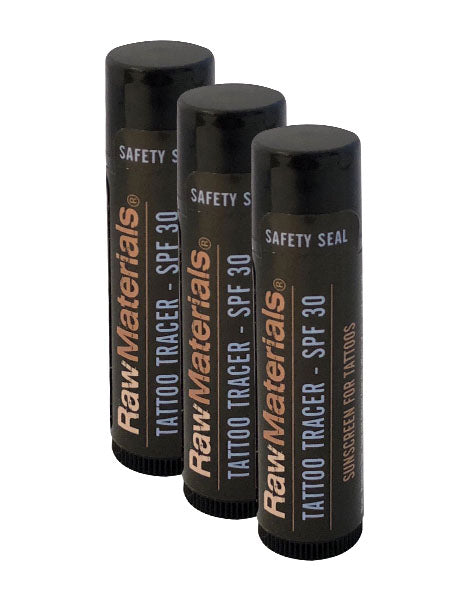 Tattoo Tracer SPF 30
Protect your tattoos from the sun's harmful rays with Tattoo Tracer SPF 30. Tattoo Tracer comes in a three-pack of no-mess UVA/UVB sunscreen made with organic oils and extracts to protect your art from all the elements, including sun! Whether you're in the sun, wind, or cold, the non-greasy Tattoo Tracer with SPF 30 will shield your Picasso from the sun. This is the tattoo protection you've been searching for. Each order comes with three (3) Tattoo Tracer SPF 30.
Who is Tattoo Tracer for?
All skin types
Benefits of using Tattoo Tracer:
Protect tattoos against sun and the elements - your "mom" tattoo will look good forever!
Instructions:
Apply as often as needed, but especially when exposed to sun.
All-Natural Action Elements:
Organic Sunflower Oil – nourishing, conditioning
Organic Jojoba Oil – nourishing, conditioning
Organic Coconut Oil – softens skin, conditioning
Aloe Vera – soothing, anti-irritant
Rosemary – anti-irritant
Organic Calendula – anti-irritant, anti-inflammatory
Active Ingredients:
Octinoxate (7.5%), Octisalate (5%), Oxybenzone (3%), Avobenzone (1%)