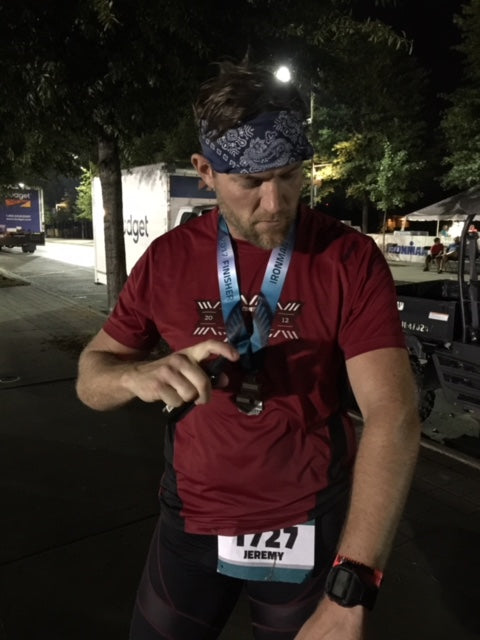 My foray into Ironman triathlons and natural men's skincare look very similar in a lot of ways. That is, I was introduced to both by very good friends and I was immediately hooked. From there, I dove in head first, absolutely clueless about both. I didn't know where to begin even with good mentors helping me navigate my path to understanding. Although my journey to becoming an Ironman has been wrought with more pain and agony than my history in skincare, both have become part of my life's endeavors.
This year I competed in Ironman Chattanooga on September 24, 2017. This competition is legendarily the longest Ironman race (144.6 miles vs. 140.6) and within the shortest amount of time (16 hours, 15 minutes to finish vs. 17 hours). Additionally, this is one of the hottest Ironman courses (90+ degrees and 90%+ humidity throughout the day). Racing this course was no joke. For this racing season, a small group of us doing Chattanooga formed a motivational team. Our goal is to inspire and push one another through the rigorous training and, more importantly, to get each of us over the finish line.
Throughout training, we drove out to the suburbs to get in some hill training on the bike. Turns out, we need to train in the suburbs because Chicago is completely flat. Who knew!? We regularly managed to get in 100+ miles on the bike followed with a couple miles of a run. This training adventure took around eight hours: six-and-half hours on the bike; thirty minutes for the run; and about an hour driving back and forth. By the end, we were a sweaty, stinky mess. If there was any consolation, the weather was generally perfect – 75degrees and sunny with intermittent cloud cover on repeat.
I am guessing you can imagine what two guys look and smell like after a hard, hot training session?! Not good. Luckily for us, I had a bottle of Sport Fix Body Spray in my bag. Right before we threw our bikes in the car and sped off back to the city, I handed my teammate the bottle and told him to spray himself like it was an instant shower.  My teammate is a good sport, and didn't ask many questions. He simply complied based on the notion that he might not smell like rotting garbage by the time he got home. Another reason I was insistent, not that I mentioned it to him, was because I didn't want to suffer through that same smell on the car ride home, times two.
There is no better testimonial than actually using the product in the most extreme circumstances. And, this was one of them. After spraying ourselves, we threw our gear in the car and sped back to the city. Eureka! Our car ride home was pleasant. No smell whatsoever. When he got home to his wife, she remarked that he didn't smell like he had just ridden 101 miles and ran three. As for myself, when I got home, my car still smelled like the new leather car smell. So, why is that?
Sport Fix Body Spray is a natural spray that neutralizes the bacteria that causes odor – it does not mask the odor or have any fragrances, dyes or perfumes. Neither us nor the car smelled like the perfume counter at Macy's during the holidays. In fact, Sport Fix Body Sprayuses saccharomyces ferment and chlorophyll to neutralize odors, as well as lichen and parsley for an extra odor control booster. The result is a powerful and fragrance-free, instant fresh body spray.  At Raw Materials we affectionately refer to Sport Fix Body Spray as 'shower in a bottle' because it truly leaves you smelling clean and natural.
If you're ever in a situation where you're concerned about body odor, I recommend
Sport Fix Body Spray
. You can keep a bottle in your car or your desk. If you're an athlete who can't hop in the shower immediately, make sure to have a bottle in your training bag. I promise that you'll not have any regrets. If you do, we'll refund your money. It's my personal guarantee. Let's just call this an Ironman's Odor Free Promise.